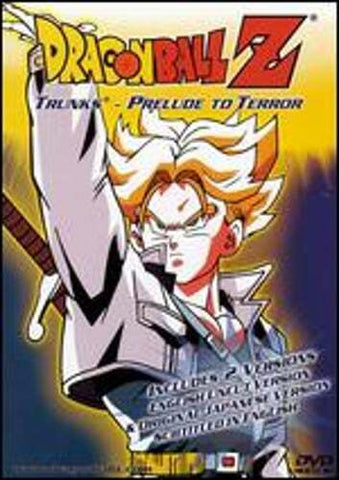 Dragonball Z, Trunks: Prelude to Terror
DVD
Format: Pre-Owned DVD
Welcome Back, Goku - After single-handedly defeating Frieza and King Cold, the mysterious warrior announces the exact time and place of Goku's arrival back on Earth.
Mystery Revealed - The mysterious warrior engages Goku in combat - however, impressed by each other's abilities, they finish as friends with the warrior revealing all of his plans.
Goku's Special Technique - Goku tells his friends about his journey across space and reveals a new technique called Instant Transmission; the fighters agree to train hard to defeat the coming androids.
Z Warriors Prepare - Koete Yaru… Gokū o!! Sentō Minzoku Saiya-jin no Ō, lit. "I Will Overcome… Goku!! The King of the Saiyan Warrior Race") is the seventh episode of the Trunks Saga and the one hundred twenty-fourth overall episode in the uncut Dragon Ball Z series.
Goku's Ordeal - When Chi-Chi demands the family get a car to make her chores easier, Goku and Piccolo take a day off from training to enroll in driving school.
DVDs & Blu-ray include disc, cover art, and case. Bonus downloadable or promotional content may have already been redeemed. Promotional items (3-D glasses, figurines, t-shirts, posters, jewelry, books or other non-media items) may not be included. Cleaning and repair was done as required.
---
We Also Recommend