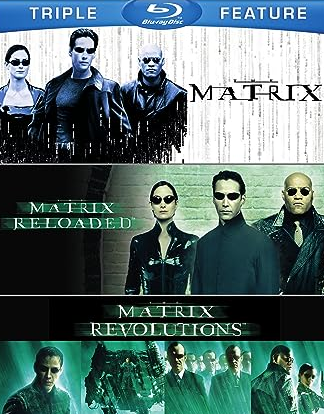 The Matrix Triple Feature
Blu-Ray
Format: Pre-Owned Blu-Ray
The Matrix - Neo (Keanu Reeves) believes that Morpheus (Laurence Fishburne), an elusive figure considered to be the most dangerous man alive, can answer his question -- What is the Matrix? Neo is contacted by Trinity (Carrie-Anne Moss), a beautiful stranger who leads him into an underworld where he meets Morpheus. They fight a brutal battle for their lives against a cadre of viciously intelligent secret agents. It is a truth that could cost Neo something more precious than his life.
The Matrix Reloaded -  Freedom fighters Neo (Keanu Reeves), Trinity (Carrie-Anne Moss) and Morpheus (Laurence Fishburne) continue to lead the revolt against the Machine Army, unleashing their arsenal of extraordinary skills and weaponry against the systematic forces of repression and exploitation. In their quest to save the human race from extinction, they gain greater insight into the construct of The Matrix and Neo's pivotal role in the fate of mankind.
The Matrix Revolutions - In a dystopia overrun by robots, Neo (Keanu Reeves), mankind's greatest hope, is trapped in a limbo world. Meanwhile, the majority of the planet's population remains in a state of suspended virtual reality. The few humans who are cognizant of the grim realities of the world desperately try to hold off their mechanical enemies long enough for Neo to escape and save the day, but things turn disastrous when all-powerful computer program Agent Smith (Hugo Weaving) arrives in the flesh.

DVDs & Blu-ray include disc, cover art, and case. Bonus downloadable or promotional content may have already been redeemed. Promotional items (3-D glasses, figurines, t-shirts, posters, jewelry, books or other non-media items) may not be included. Cleaning and repair was done as required.
---
We Also Recommend