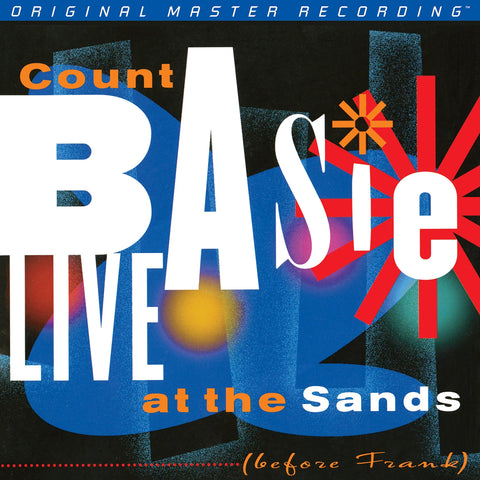 Count Basie
Live at the Sands (Before Frank) [MOFI] (Original Master Recording)
Release Date: 04/06/2016
Format: 2 X LP
Label: Mobile Fidelity Sound Lab - MFSL2-401-2
Release type: 180 Gram 45 RPM Double Vinyl LP Pressing
SWINGING HARD AND HEAVY WITH ORCHESTRAL SUPPORT, RECORDED DURING WARM-UP SETS FOR SINATRA

Digital clone of original 1998 PCM digital master to analog console to lathe
This recording was originally made on 4-track analog tape in 1966. It was not mixed until 1998, onto U-Matic tape, using the Sony 1630 PCM digital system.
Count Basie and Frank Sinatra had the perfect arrangement at the Sands. Before the Chairman hit the stage in Vegas, Count Basie and his big band warmed up the already enthusiastic crowd with a brief set of their own. A dynamite entertainer, the legendary leader causes hearts to race, hips to shake, and fingers to snap with high-energy readings of his trademark swing music, taken to feverish heights by both his first-rate orchestra and the incredibly swank setting. Fortunately, the finest of Basie and Co.'s introductory performances from the historic 1966 dates have been preserved here and serve as a seminal complement to Sinatra's iconic Live at the Sands.

Introduction
Splanky
I Can't Stop Loving You
I Needs to Be Bee'd With
Flight of the Foo Birds
Satin Doll
Makin' Whoopee!
Corner Pocket
One O'Clock Jump
Hello Little Girl
Whirly Bird
Blues for Ilene
This Could Be the Start of Something Big
Jumpin' at the Woodside
---
We Also Recommend